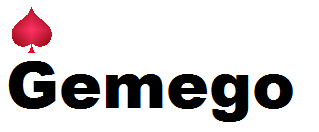 PlayTexas

Texas Hold'em poker. You can play anytime and anywhere. It is completely free. Whether you are playing for the first time or experienced PlayTexas has something for you. Play for fun. Post your score to Facebook, Twitter and our leaderboard. The best offline Texas Holdem Poker around.
Can you top our leaderboard?
Download
Features
No Limit, Limit and Pot Limit settings
Hand rankings – click on table to display
Rank - view your rank in the world, country, region and town
Leaderboard - view the leaderboard for the world, country, region and city
Share
Portrait and Landscape support
Backgrounds – many options or choose your own custom photo
Several styles of card to choose from
Stats - games played, win percentage etc
Log of hands played
Hand Analysis
Links to Poker Wiki
Settings – many options
Support for phone and tablet devices
To save and restore your score to a new phone follow this link Score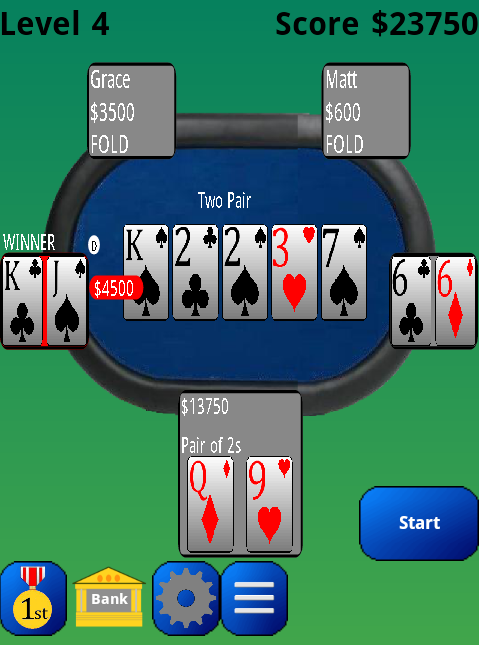 Beginning Poker
If you are new to poker it is a fascinating game which has many levels (basic rules, understanding odds, player psychology, winning strategies). If it were a straight-forward game it would not have such a big following. There are many great web sites that will help you learn. Below are just a few of the basic rules to Texas Hold'em get you going.
Each player is dealt 2 cards that only they can see. Each player can then bet whether those cards will beat opponents cards at the end of the game. The terms are...
FOLD - you remove yourself from the hand and lose any bids already placed
CHECK - you match the bid already on the table
RAISE - you match the bid on the table and add some more
ALL-IN - you bid all the chips you have at the table
SMALL BLIND - a small number of chips which one player must place based on table position
BIG BLIND - a slightly larger number of chips which one player must place based on table position
When each player has completed betting the next 3 table cards are dealt (called FLOP). Everyone can see these. Another round of betting then takes place. If at any stage you are the only player left in the betting then you win the hand and pot and do not need to show your cards.
The next two rounds are called the TURN and RIVER at each another card is turned over. So everyone has 2 cards in their hands and 5 table cards are visible to everyone. Now everyone must make the best hand they can from the table cards and their own cards. Only 5 cards count but these can be made up as follows 2 of your cards plus 3 table cards, 1 of your cards plus 4 table cards or 5 table cards. The hands are ranked beneath from low to high.
The hands are..(from lowest to best)
High Card - Your highest value card (Ace-High) e.g. King Hearts
Pair - A pair of the same value e.g. 5 Hearts and 5 Spades
Two Pair - e.g. 5 Hearts & 5 Spades and Jack Clubs & Jack Diamonds
Three Kind - e.g. 5 Hearts, 5 Diamonds & 5 Spades
Straight - 5 cards of increasing value without gaps e.g. 5 Hearts, 6 Diamonds, 7 Clubs, 8 Hearts, 9 Diamonds
Flush - 5 cards of the same suit e.g. 2, 5, 7, Jack and Queen Clubs
Full House - 3 cards of one value and 2 of another e.g. 5 Hearts, 5 Spades, 5 Clubs, 2 Diamonds, 2 Clubs
Four of a kind - e.g. 5 Hearts, 5 Diamonds, 5 Clubs & 5 Spades
Straight Flush - e.g. 5, 7, 8, 9 & 10 Hearts
Royal Flush - A straight flush to Ace e.g. 10, Jack, Queen, King & Ace Hearts
© Gemego Ltd 2016. All rights reserved. Company No. 07416725